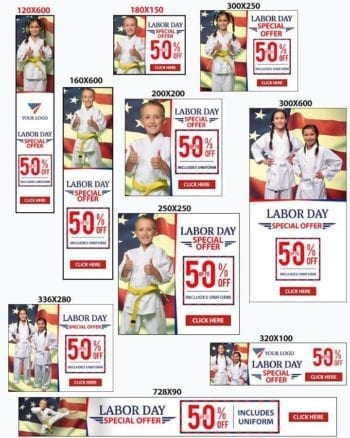 Labor Day is fast approaching and some schools piggyback advertising and promotional campaigns for their school with this annual holiday to capture the attention of potential prospective students.
Some schools actually close for the Labor Day weekend while others schedule Labor Day promo events. It just depends on the school owner's goals and priorities.
Other creative and energetic school owners may pay attention to which other BIG businesses become the most visible in advertisements, social media, radio, Television, etc. as Labor Day approaches and then make a plan to benefit from all the dollars one or more of those businesses are spending to attract customers to their stores.
For Example, Walmart, Lowe's, Home Depot, sporting goods stores, clothing stores, etc. all spend lots of dollars to get people to come to their stores during the Labor Day weekend.
If one of these BIG stores might typically have 1000 people visit it on a normal Saturday, then with all their extra Labor Day advertising they might have 2000 people visit because of all the visibility they generated about all the Labor Day sales they are running. High people traffic means a great opportunity for "someone" to man a booth at that store and talk to all those people going in and out of the store.
Some savvy school owners approach those store managers and request permission to setup a booth of some kind on the parking lot or near the entrance or exit of the store when Labor Day weekend traffic is highest.
The school's booth signage can indicate that your school students, parents, PVT are sponsoring whatever you are offering at your booth and be sure to display your school name address, phone number and website on all signs, handouts, cards, etc. at the booth.
You may even be able to co-op with the BIG store and share the goodwill if the hosting store manager gives you permission to display their name or logo on one or more signs. Just show them an example of what you are proposing to display and see if they will say, "OK."
Your sign might say, "Thank You Walmart Store Manager <insert their name> For Donating This Booth Space In Support Of Our:
Free Self Esteem Enhancement Community Service Program

Tip: Setup a texting Keyword (

FREE SERVICE FOR MOO DUK KWAN SCHOOLS

) to display on a sign at your booth with a compelling offer to encourage people to text it.
Tip: Develop an Elevator Pitch specifically for use at this booth and train the booth manager(s) to use it
Display plenty of signup forms for the Self Esteem Enhancement Program
Have a ready supply of pens or pencils for people to use

Booster club (your PVT Committee) raising funds to send local students to Regionals or Nationals

Tip: Display photos of the students)

Bake sale raising funds for ........
Even school owners planning to close over the Labor Day weekend, can still run effective promotional campaigns BEFORE the holiday and piggyback on widespread awareness of it to attract new students.
And when a school owner shares the idea with supporters about hosting one or more Labor Day booths around town, students or parents or your PVT Committee might even volunteer to man one or more in shifts so no one has to stay more than a few hours at a time.
Not everybody goes away for Labor Day. 🙂
What Labor Day promotions are you doing in August leading up to Labor Day?
---
Please take a moment and add your knowledge to the site for the benefit of others by posting a comment, sharing your ideas, submitting a link, or asking a questions, etc.
---
LEARN MORE
---
LOGIN TO CONTINUE READING.
If you are an existing user, please log in. New users may register below.