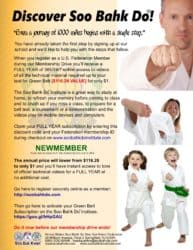 This Fall Membership Drive focuses on attracting prospective new students, converting them to enrolled students and converting them into members of the United States Soo Bah Do Moo Duk Kwan Federation®
Ideally, a Fall Membership Drive may be most productive when introduced in very early August before schools begin resuming classes.
Teacher inservice days are a GREAT opportunity to introduce your school to teachers and the new PTA President.
Everything in the information could be narrowed and converted to a school level Fall New Students Drive.
Talking Points For School Owners
Benefits For New Members
Please take a moment and add your knowledge to the site for the benefit of others by posting a comment, sharing your ideas, submitting a link, or asking a questions, etc.
---
LEARN MORE
---
LOGIN TO CONTINUE READING.
If you are an existing user, please log in. New users may register below.