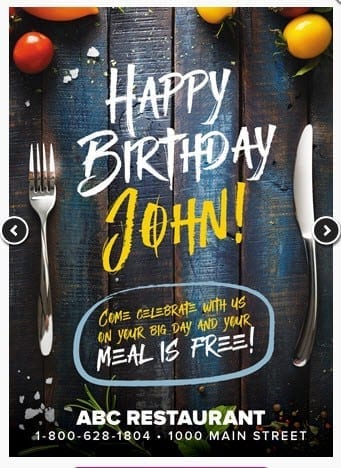 Postcard Mania suggests that businesses can start celebrating everyone's birthday with their new postcard mailing service offering which is an interesting new twist on the Birthday Club concept.
Instead of targeting your existing students birthdays, you will also be reaching out to non-students who have birthdays approaching and thus you find new student prospects near their birthday so you can extend them a special "birthday" offer.
You define your target mailing radius around your school and specify your criteria for who you want to receive your postcard and then design a postcard that speaks to the audience you want to target. The rest is automatic.
For example, lets say you want to increase the number of children's birthday parties that you host at your school because each birthday party will have a dozen or more non-students in attendance and you have the chance to excite each one and motivate them and their parents to enroll in a trial. You might target households with children within 3-5 miles of your school and then you might send them a card like this.
Or lets say you want to increase the number of adults in your school because you want to start an adults only class, but do not currently have enough adults to justify a separate class for them. In this case you might specify different demographic criteria and you'd use a different postcard design that speaks to adults perhaps announcing your new ADULTS ONLY "Daybreak Fitness Formula Class" enrolling now.
Birthday Postcards With Martial Arts Designs (Other vendors)
Postcard Mania's site indicates a minimum order of 250 pieces at 55 cents each. The 55 cents per piece includes postage, printing and mailing service.
Would you invest $127.50 each month to mail postcards to potential students who are having birthdays during the month within 3-5 miles of your school?
Lets say you try it for a month and only get one new student.
Was that worth the investment of $127.50?
Would you continue it next month?
Calculate your return on investment (ROI) based on the lifetime value a student and you may be surprised about what you should do.
The math and the answer are pretty straightforward.
Please take a moment and add your knowledge to the site for the benefit of others by posting a comment, sharing your ideas, submitting a link, or asking a questions, etc.
---
LEARN MORE
---
LOGIN TO CONTINUE READING.
If you are an existing user, please log in. New users may register below.