Reading Time:
3
minutes


When you invest a few moments to explore the powerful conversion process of "My First Six Weeks," you'll surely come away with some exciting new ideas which are actionable this month for growing your school.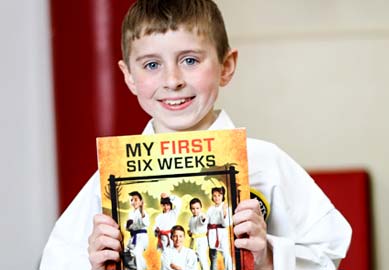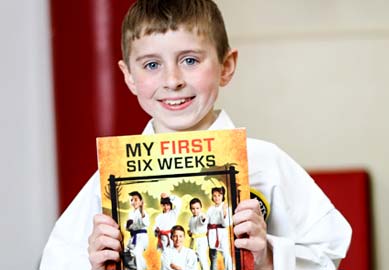 Now let's explore the conversion process that non Moo Duk Kwan® instructor Chris Gray has systematized into a powerful program about how to convert more student trials into paid student enrollments.
His conversion process employs a strategy for teaching positive behaviors to children through homework assignments during their trial and simultaneously makes the child and BOTH parents into raving fans of his school.
If you missed his webinar, you can watch the recording by clicking this link and gain an overview of his ingenious trial conversion process.
During his webinar he reveals the powerful supporting program that works magic for schools that are willing to make the investment in a conversion process that can generate impressive conversion results.
Even though a few aspects of the program may not fit into Moo Duk Kwan® standards and your results may vary, this program concept and executing it as described certainly appears to have the potential to significantly improve the conversion of student trials into paid student enrollments.
He also shared a valuable tip regarding the use of a CLOSED group on Facebook for new students (a perfect PVT assignment) and a 20 Point Conversion Cheat Sheet during his webinar.
The support program for his ingenious conversion process can be explored at www.MyFirstSixWeeks.com
Chris Gray has incorporated powerful retention elements in his conversion process for trial students by including weekly recognition of the student's behavioral goals achieved during their trial program.
Excited and motivated students don't quit and parents witnessing positive differences in their child at home are likely to be eager to enroll their child beyond the trial program.
Interestingly, the U.S. Soo Bahk Do Moo Duk Kwan Federation's own case study has revealed that registering students as members so they receive personalized membership materials with their name on them and then testing them within 30 days after they begin training and then recognizing their progress among their peers by ceremonially presenting their rank certificate to them in front of the class more than DOUBLED the retention of new students over a three month period.

In fact, when 10 new students enrolled and were not registered as members or tested within 30 days, then only 3 of the 10 typically continued training until their first test at the three month mark. However, when 10 new students enrolled and were registered as members and tested for rank within 30 days and then ceremonially awarded their certificate in front of their peers, then 7 of the original 10 students were still training at the three month mark of their next test.
Chris Gray's strategy also strategically involves parents in the process of actively recognizing their child's accomplishments as a direct result of their training, thus assuring the parents pay attention to their child's progress. Also, every time a parent takes an action to recognize a behavior their child has completed, their own action also reinforces their commitment to keeping their child enrolled at your school for the benefits they confirm that they are observing. How perfect is that?
Perhaps this idea of parental involvement presents an excellent opportunity for you to refresh the role of your PVT (or form a PVT) and perhaps even assign them responsibility for carrying out a portion of this conversion process (perhaps the social media part) with each new student enrolled in a trial or even for new students 1st enrolled in a paid program if you do not offer trials.
After you have checked out this potentially powerful conversion process, then take action today to create some exciting new opportunities for your school this month.